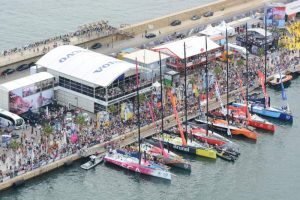 The Volvo Ocean Race (previous name Withbread Round The World Race), since 1973, has provided the ultimate test of a team and the human adventure like no other!
Over 43 years it has kept an almost mythical hold over some of the greatest ever sailor and the 2017/18 edition will take the teams 45.000 nautical miles around the world, across four oceans, touching six continents and twelve landmark host cities.
This is the fourth time the V.O.R. will start from Alicante. Alicante, located on Spain's Southeaster Costa Blanca, is also the headquarter of the race!
Race Village will be opening on 11th October and brings people from all over the world, to see the new iconic Volvo Ocean 65 boats and, if you are lucky, bump into the sailors preparing themselves for the regatta!
In-port Race will be on 14th October and the Leg will start on 22nd October.
SY NOHeea will be in the right place at the right moment and is available for charter during the whole event of Volvo Ocean Race in Alicante.
To check availability and charter rates for your vacation dates for your selected destination simply complete the form below